Uriah Heep shaking the Central stage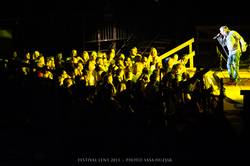 Yesterday the Central stage at the Drava river was jumping up and down to the wild rhythms of the British cult band Uriah Heep, which brought the sound of the cult era of British hard rock to Maribor. Despite their age, the band members were sovereignly playing a broad collection of their greatest hits from over forty years of their musical career and the audience loyally returned the energy by singing, jumping and screaming with enthusiasm. The seats in the front rows were removed for the most devoted fans who were encouraging the rockers to go for it. The visitors on the grandstands jumped up during many songs as well and let themselves go during the tearing sounds of the electric guitar.
The peak of the concert was definitely the song Lady in Black during which all visitors were singing the chorus, sometimes even drowning out singer Bernie Shaw and bringing a big smile to the face of the only original band member – guitarist Mick Box. He proved once again that a real rocker at heart never grows old and always performs with ease and vigour. The band's repertoire of old classics and later songs apparently hit the bull's eye and summed up the rich discography of the band that, despite its wild history, still performs with a lot of love.
We prepared a short video of the event for you. Go ahead and enjoy!